All About Me – Dorothy Berry-Lound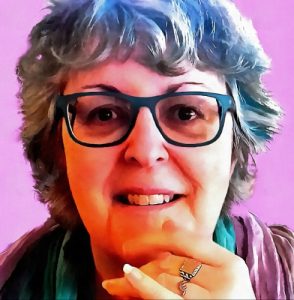 I am Dorothy Berry-Lound but am also known as ShannathShima, the spirit of the snow leopard. This is a spirit name given to me a very long time ago. I am a Buddhist and my spiritual life makes an important contribution to my work and my approach to life in general. What else can I tell you about me?
My Background
Born in Brighton, England, It was at high school that I was introduced to art and was completely smitten by it, thanks in large part to a very enthusiastic art teacher!
Once I started drawing, painting and reading books about artists and art techniques I couldn't stop. That enthusiasm has never dimmed and I continue to be 'seduced by colour'.
I now live in a beautiful old farmhouse up a mountain near Paciano in Umbria, Italy. I live with my husband Barnet Boy, two dogs and a menagerie of cats. A lot of my inspiration comes from my surroundings and the beautiful towns and villages of Central Italy as well as the gorgeous energy and spirit of place I have found here.
My Concept Of Healing Art
All of my work is designed to impart positive energy and enhance the ambiance of wherever it is hung.
My piece 'Mind in Meditation' is a good example of my work in this area.The image aims to capture the peace and tranquility, calm and stillness of the meditative state. This piece was given a Special Merit Award in the Light Space & Time "All Women" Art Exhibition competition in January 2018.
I have published various articles on how to create healing art including the selection and use of color in art for health and healing. This interest in the healing power of art extends into all my work. So, for example, if I am working on an image of a local Italian town I will apply colors and textures to enhance the mood of the piece.
My Work In Medical Settings
One of my images was accepted into The Foundation for Photo/Art in Hospitals. Called 'Tranquility Discovered' you can see it here at the Kyogle Memorial Hospital in Australia (the image in the center). It has also been selected for display in the Careggi Hospital in Florence, St. Paul Minnesota, Tanzania, and Ethiopia.
I have six pieces hanging in a doctor's surgery in Tavernelle in Umbria, Italy and a dog portrait is on display in a local veterinary clinic.
My Writing
For several years I wrote a quarterly column called 'Halfway Up A Mountain' for CQ International Magazine (CQI). My column reflected on my life in Italy and looked at the changing seasons, local festivals, Italian lifestyle and more.
I write as a guest blogger at Katzenworld and Artistic Face Masks and have authored several books.
Keep in Touch
You can follow me on Facebook and Twitter. I have a blog that I post to regularly.
All images (c) Dorothy Berry-Lound 2000-2021